Will you be getting married soon? And are you looking for wedding rings? Then you are at the right place, the wedding ring specialist who will visit your home. There are a lot of things to consider when selecting. Specialists are happy to advise you on the spot, but here are some useful tips. This makes choosing the perfect wedding ring a piece of cake. Choose the best Wedding Rings in this case.
Start Orienting On Time
We understand that you have a lot on your mind for the wedding. You have to plan a lot for the day itself, choose wedding clothes, and invite guests. We therefore recommend that you get some initial ideas about wedding rings well in advance. What materials are there? Which finishes? Rings usually have a certain delivery time. So be there on time to avoid rush work. It gives you a lot of peace of mind.
Think About the Material of the Wedding Rings
The material of the rings is a very important point. Many Dutch people have traditionally opted for gold wedding rings. Did you know that bridal couples are increasingly opting for other materials such as silver, metal, platinum and palladium? It's a tough and stylish choice. If you would like more information about the differences and similarities between the materials, please feel free to contact our wedding ring expert.
Think About Thickness and Finish
Other factors that you can consider when choosing the perfect wedding rings are the thickness and finish of the ring. A narrow thin ring looks very refined and elegant. A wider ring looks modern and cool. The thickness of the ring partly determines the wearing comfort. If you have small fingers, a narrow wedding ring is an obvious choice. The finish of the ring is also crucial. Are you interested in a ring with one larger diamond or in one with several stones?
Think About Getting an Engraving Done
An engraving is the finishing touch to your perfect wedding ring. Would you like to have the wedding date engraved in the rings? A name or a text that is very special for you two? Jewelers make an engraving in your ring for free. Did you know that the engraving can be adjusted or even expanded later? So a lot is possible.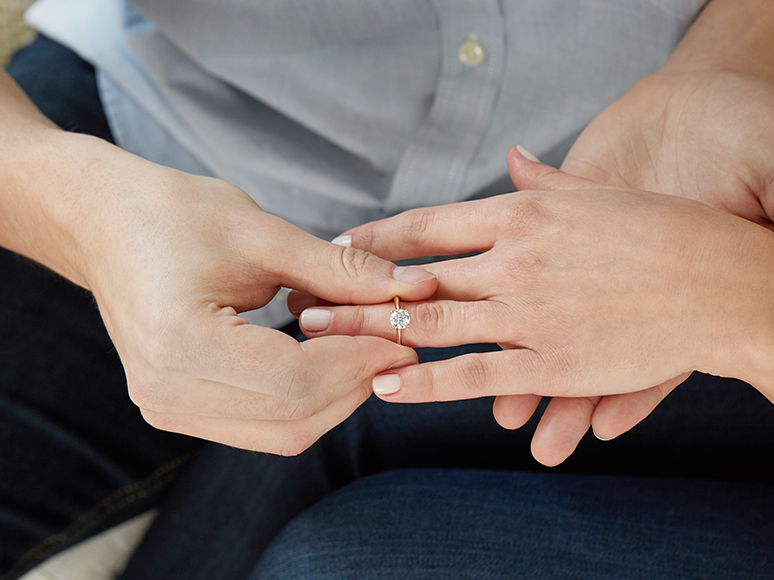 Choose your Wedding Rings At Home
Preparing for the wedding is a pleasant and exciting time. You feel that you are running out of time, especially if you have a job and children. This may make you dread going to a jeweler to choose rings. Make it easy for yourself and let our wedding ring expert visit your home at a time of your choosing! He takes a large standard collection of rings, so that you can fit rings in peace. You will receive extensive professional advice.
Choose the Right Material
If you don't want gold rings or if you think gold is too expensive, you can also choose silver, platinum and titanium. And nowadays steel and ceramic have been added to this. All materials have their own charm and it is really a matter of taste and budget.
In addition to the choice of material, it is quite essential that the ring fits well. You can be 100% sure of this once you have selected the ring and have it made to measure. Just fitting the ring size to the jeweler does not necessarily mean that your wedding ring is the same. That's because your wedding ring is made of a different metal. To make sure you choose the right size right away or at least as good as possible, we have a trick for you: make sure you try on the ring on a day when it is not extremely cold or extremely hot. Heat can cause your fingers to swell and not when it is cold. Also try to take into account that the day on which you are going to fit has about the same temperature as your wedding day. Now this is quite difficult to determine in a country, but each month has an average. Another tip: are you planning to lose a few more pounds before the wedding? Then it is not useful to have the rings inside before you have said goodbye to the kilos. When you lose weight, your fingers also fall off and become thinner. If you don't know it all yet, there is still no need to worry. As we said before, you can still have the ring altered later, after the wedding.
Determine your style and design
In the past, all wedding rings looked alike. They were almost all yellow gold, polished and evenly round. No frills and frills. But that is different nowadays! Specialists designs and manufactures custom-made wedding rings and wedding jewelry. The latest techniques are used and each jewel is made by hand. Traditionally forged wedding rings guarantee the highest possible quality. In design space you can get plenty of inspiration and sketch the wedding rings of your dreams. Here you can put all your personal ideas and wishes in lost. Nothing is standard with us and we take the time for you!
Think About the Engraving for the Wedding Ring
Last, but certainly not least: the engraving! What would you like to have engraved in your wedding rings as a text, symbol or sign? Traditional is: your names and the wedding date, but of course you don't have to. You can also put a beautiful and meaningful spell in it. Or choose a symbol that represents something that suits you. You are completely free to do this and it is an extra opportunity to make your wedding rings even more unique. The nice thing about a nice message on the inside of the ring is that it is almost a kind of secret that you carry with you all day long. After all, no one can see it. It is also possible to engrave your text, names or symbol on the outside. Why not? They are your wedding rings and you can do whatever you want with them!