Wedge shoes are very much in fashion when it comes to the footwear industry. These shoes come with soles that can run the length of the foot and not just under the heels. The sole of these shoes is mostly made of cork or rubber.
When one selects wedge heel sandals then the sole that one gets are thicker on the back side instead of the front side. When one is looking for latest designs and varieties of wedge shoes, here are some stylish options that one can consider: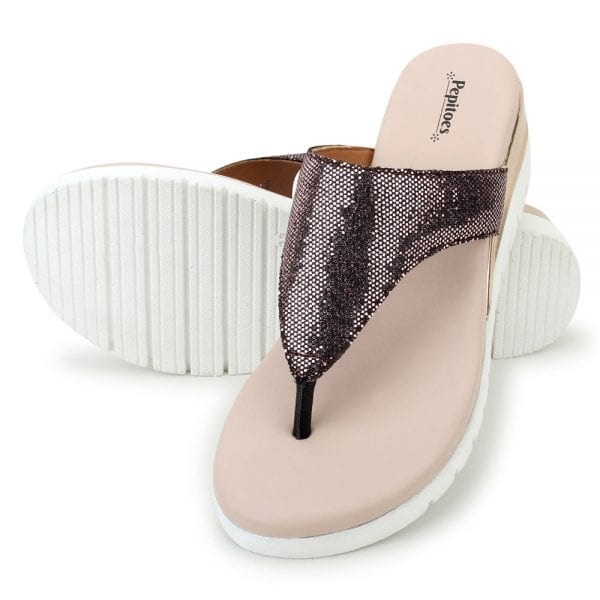 Platform Wedge Heel Shoes:
They look gorgeous when worn as these heels are mostly made of fibres. The best advantage is that these shoes are ultra-light and mostly appear in nude colours. Hence one can wear them with any outfit. The soles are thick and they are lightweight. One can wear them for linger hours without feeling the pressure of wearing heels.
Ankle Strap Wedges:
These shoes have a great grip and so one can wear them in a busy day. They can work all day long and will not fall down wearing these shoes even if they are in a hurry. The ankle straps keep the feet in place and the leather can also give these shoes a touch of formal. So, one can wear them at work place.
Peep Toe Wedges:
They come with a sophisticated and chic look and peep toe wedges come with varieties of styles. They look really cute when they are worn and hence one can wear them at parties pairing them with pretty dresses. The fibre sole can be a good contrast to the leather finish top of the shoes.
Lace Wedges:
Lace wedge shoes look really stylish when worn. The cap lace toe provides the shoe with an elegant look. They also have an ankle strap which provides firm grip to the feet. One can wear them with regular outfits like jeans, skirts and long dresses.
Zip Booties Ladies Wedge Shoes:
These booties provide complete coverage of the foot. The zip on the wedges can also provide with a great style statement. One can wear them with skirt dresses and they are really comfortable for an all night party because they are made from leather or suede.
Summer Rope Wedges
These shoes can be worn by people who are very much fashion inclined. The hemp of the rope sandals come with vibrant colours and so they look really striking.
Broad Strap Wedges:
Wedges often come with buckles and broad straps. This gives proper fit to the feet. One can wear them for a night put and it will never stress out the legs. One can pair them with skirts and jeans and they look really elegant.
Sneaker Wedges:
Here both comfort and style go hand in hand. The comfortable sneaker wedges are available in solid colours and when worn they look really classic. One can wear them at casual outing and even at a party.
There are endless varieties of wedge shoes for women to indulge in.