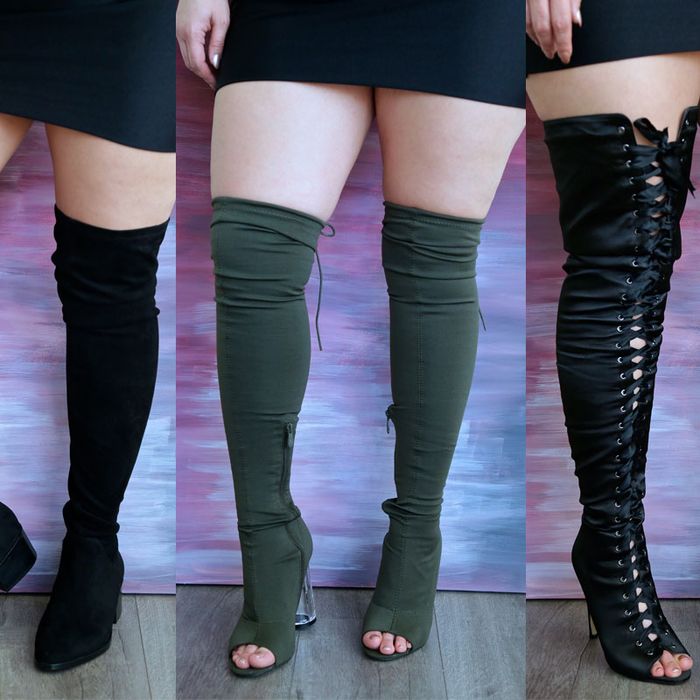 You may have looked at your closet and wondered how you can wear your favourite shoes more often. As much as you love the heels on those boots, they're just too difficult to walk in during a daily errand. Here are some tips for wearing velvet thigh-high boots that are ideal for day to night activities.
1) Wear them with tights or leggings: When you look at women who know how to wear their velvet thigh-high boots, it's common to see them paired with tights or leggings underneath. This way, the boots aren't rubbing against bare skin and getting dirty or uncomfortable – instead, they'll be protected by another layer of material. Leggings are especially for this purpose because they show off your boots and give you a cute look.
2) High-waisted pants or leggings: Another way to wear velvet thigh-high boots is simply with high-waisted pants or leggings. This gives the same appearance as wearing them with tights, just without all of that extra material bunched up around your waist.
3) Jeans work too: This may not be the traditional use for these types of shoes, but it's important to know that they can absolutely be worn with jeans as well. It's a fun way to switch up an outfit and will make you stand out from the crowd instead of blending in with everyone else who is wearing skinny jeans and ankle booties.
4) Add a pop of colour: Velvet thigh high boots come in a variety of colours, so it's important to find a hue that suits your style. You'll also want to consider the colour of your top and bottom when making this decision because if they match perfectly – or don't match at all – you'll have a fun chance to play with different looks. A good rule of thumb is to stick with darker colours like black and brown for the day and add something brighter and more eye-catching when going out later on in the evening.
5) Be comfortable: Everyone has tried on new shoes only to discover that they're incredibly uncomfortable after wearing them for half an hour. The idea here is that while we may love how some boots look on us, we need them to be functional as well. Unfortunately, that's where many women struggle with velvet thigh-high boots because their calves are much larger than the average person. This means that they're unable to keep these shoes on all day without paying for them at the end of their evening. It's important to consider how tight you want your boots to fit before wearing them so that you stay comfortable throughout the day and night.
6) They can be casual or formal: There are times when velvet thigh-high boots simply cannot be worn outside of a club setting because they would look too trashy. The key is finding ones that work for more "professional" settings like an office environment, business meeting, or even date night if done correctly (and there isn't anything wrong with dressing up with your significant other).